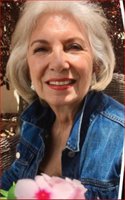 Joann Wardy
Mobile Phone: 915-355-0992
E-mail Address: joannwardy@yahoo.com
"Meet Joann Wardy- born and raised in El Paso, TX. Joann understands the numerous benefits of life in the Borderland area with its unmatched weather, culture, and diversity. With over 15 years experience in the real estate business, she is an active agent with Sandy Messer & Associates."
Graduate of Loretto Academy (a private girl's school) and continued her education at the University of Texas at El Paso. An entrepreneur at heart, at the age of 18 she started her first business, Joann Wardy School of Etiquette and Enrichment which has continued to serve the community for the past 50 years.
In 1971 she opened an exclusive women's clothing store, Joann Wardy which she operated for 18 years, and was honored as one of the Outstanding Women in Business.
In 1993 she opened Joann Wardy Home and Gifts which she operated for 9 years and was recognized as one of the 30 Emerging Businesses.
Presently Joann Wardy a multi-million dollar producer in real estate is a member of :
• WCR Women's council of Realters
• RCA Realtor Commercial Alliance
• CCIM Certified Commercial Investment member
• GEPAR Greater El Paso Association of Realtors
• TAR Texas Association of Realtors
• NAR National Association of Realtors
She also has the following certifications:
• GRI Graduate Realtor Institute
• CNE Certified Negotiation Expert
As an experienced agent, Joann understands that buying and selling a home is one of the biggest decisions in a client's life and views this process as a true privilege.
She is also a very active and connected community volunteer and manages to combine her love for the industry with her appreciation of music and the arts. She is past president of Pro Musica, an organization devoted to making the art of chamber music available to the community.
Joann presently serves as secretary of the Horizon City Municipal Board. Five words that best describe Joann Wardy are, integrity, commitment, passion, patience, and compassion.
---
Please fill out the form below to contact Joann Wardy.