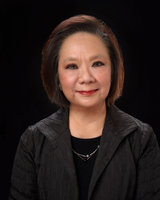 Sue Woo
855 N. Resler Dr., Suite C
El Paso, Texas 79912
Office Phone: 915-833-6111
Mobile Phone: 915-740-5600
Fax: 915-833-9461
E-mail Address: suejfw@aol.com
Sue Woo, a Multi-Million Dollar Producer with Sandy Messer & Associates, offers her clients a personal commitment to professional service with every transaction. She has over 27 years of experience in the El Paso market and specializes in Homes on the West side of El Paso as well as the Upper Valley. Her knowledge of the market is extensive from land to Luxury homes.
A mother of 5 an ac active civic leader, she knows the ins and outs of El Paso. She has served as past Chairman on the Board of the UMC Foundation and Chairman of the El Paso Symphony Orchestra. She is currently is the Chairman of the Youth Orchestra Board and Serves on the Foundation of the Holocaust Museum. In the past, she has served on the Board of the Greater El Paso Chamber of Commerce, past Chairman of the Center Against Family Violence Board, YWCA Board, CIMA Hospice , and Board of the Transitional Living Center.
Let Sue make your transfer to El Paso a pleasant experience.
---
Please fill out the form below to contact Sue Woo.